POCO QUEEN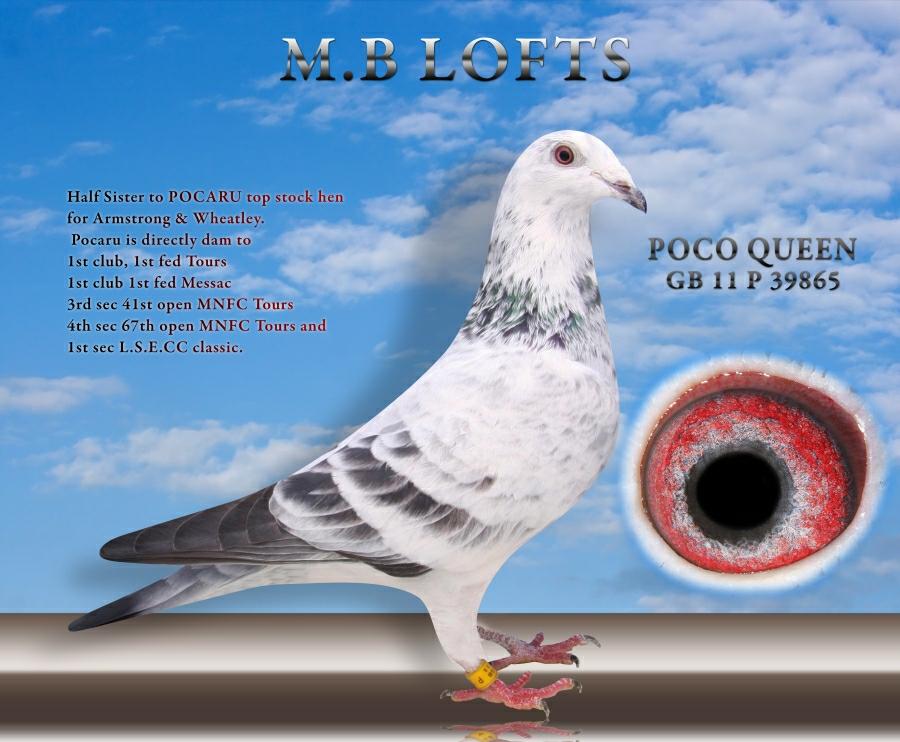 Daughter to POCO REAL MADRID
Half Sister to POCARU top stock hen for Armstrong & Wheatley.
Pocaru is directly dam to:
1st club, 1st fed Tours
1st club 1st fed Messac
3rd sec 41st open MNFC Tours
4th sec 67th open MNFC Tours and
1st sec L.S.E.CC classic.
Sire POCO REAL MADRID Direct son to Poco 1st int Barcelona y 93 and 1st Barcelona hen 95.
Poco is the basic pigeon for the long distance on the loft of Jos Tone
Dam THE GOLDEN QUEEN Daughter to "DE KADET" broer 599 vloog 1e int prov bourges 2780b. 10 nat 10156b 2e prov vierzon 2448b 92. 2e prov vierzon 2448b.92. 1e toury 351b 91. 7e prov vierzon 1414b. de kadet 600 vader 1prov argenton. 172/96 3x1e 3x2e 49×10 tal. 093/96 1x1e 2x2e 15×10 tal and from a full sister to MOLNAR father of 3rd prov. 85e nat. dax 02. 28e nat bordeaux 97. 36e nat bordeaux 99. 19e prov beziers 01. 23e prov jarnac 00. 24e prov montauban 01. 19th prov la souterraine 02.