POCO DREAM GIRL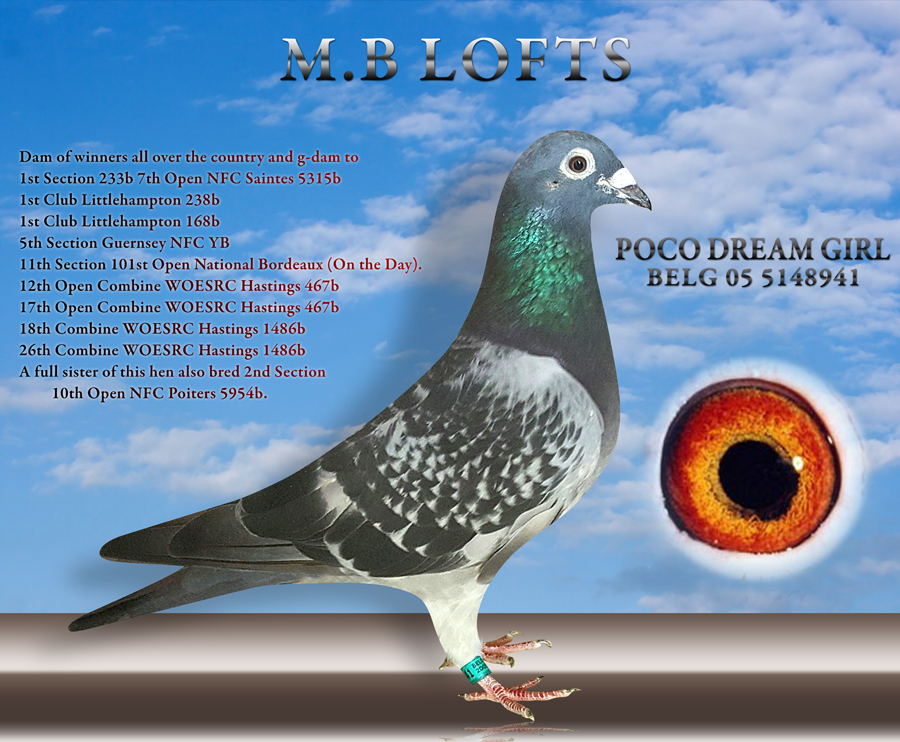 Dam of winners and g-dam to a lot more winners including:
Pricncess Poco which is dam to:
1st Section 233b 7th Open NFC Saintes 5315b
1st Club Littlehampton 238b
1st Club Littlehampton 168b
5th Section Guernsey NFC YB
11th Section 101st Open National Bordeaux (On the Day).
12th Open Combine WOESRC Hastings 467b
17th Open Combine WOESRC Hastings 467b
18th Combine WOESRC Hastings 1486b
26th Combine WOESRC Hastings 1486b
A full sister of this hen also bred 2nd Section 10th Open NFC Poiters 5954b and scores of other winners for Brian Ferris, Bristol.
SIRE is a son Son of KLEINE MOLENAAR X POCO Son of the world famous Kleine Molenaar 1e prov. acp. KBDB fond 00. 1e prov. acep. Marathon 00. 1e nat. acepigeon televie 00. When paired to the great Poco Diego.1st Nat Yearlings 1st Int Yearlings Barcelona 1993, 1st Nat Hens Barcelona 1995
DAM Daughter of "RED BARCELONA & ARABELLA" A Magnificent Daughter of the "Red Barcelona 1st Nat Barcelona 13,089 birds & 4th International Barcelona 26,944 birds & Aeabella Whom herself flew Barcelona an incredible 4 times for Jos thone.