National 900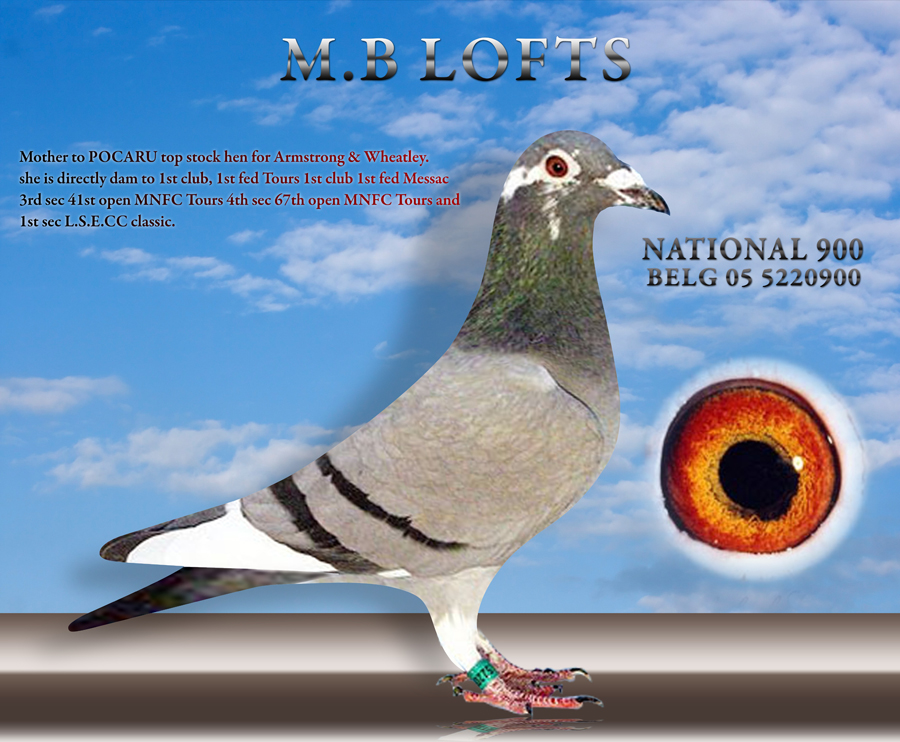 Dam and gdam to some very good pigeons like POCARU top stock hen for Armstrong & Wheatley. she is directly dam to 1st club, 1st fed Tours 1st club 1st fed Messac 3rd sec 41st open MNFC Tours 4th sec 67th open MNFC Tours and 1st sec L.S.E.CC classic.
SIRE NATIONAL 11 1st Nat Limoges 12,700b, 1st Limoges 7,000b, 6th Chateauroux 12,477b, 6th Montlucon 9,300b, 34th Limoges 16,504b now a breeder of champions. National II bred a 1st Pro winner for Gaby Vandenabeele and 1st Prov winner for Marc De Cock and also sired the winner of 1st Open Dutch National WHZB 75,000 birds.
DAM Top daughter of SARS Son 1e nat. bourges Father to ARTIFICIAL JUTTA. 2e nat. Vichy 11510 p. 2e prov. Chateauroux. 1e nat Vichy 2003 acepigeon and PATSY top breeding hen. granddaughter of Isis 36 places in the top ten without doubles of which 5 firsts.