Testimonials
Big well done to Jonathon Smith of New Romney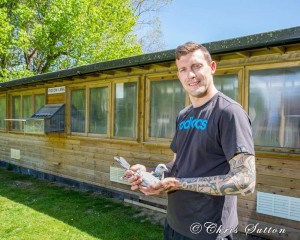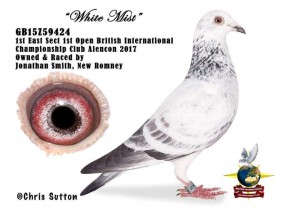 Winning 1st BICC with a Pigeon I Bred called White Mist
Jonathon Smith of New Romney
1st Open BICC Alencon 2017.
The 2017 Alencon race organized by the BICC attracted an enormous entry of 5,654 birds and the eventual winner of what turned out to be a really fast race proved to be a two year old white grizzle hen racing to the New Romney, Kent loft of Jonathon Smith.
________________________________________________________________
"I purchased my first birds from martin in 2007 from his Jos Thones lines, they were in excellent condition and bred birds to win and score in the club and fed both pure and crossed. Anyone thinking of investing in this Family of birds should give Martin a call and get themselves a square deal from an honest fancier".
Karl Kelly, Glasgow.
---
I have visited Martins to take a look at his jos thones as i had purchased some of their offsprings which i am very happy at the type and quality i seen and handled the stock birds to say i was impressed is an understatement they where superb good feather quality good strong eyes and great handlers if i had the cash and a basket I would have taken the lot they where a credit to Martin I found Martin very easy to deal with and a fair deal is assured i would not hesitate to recommend Martins thones to any one he is a true gent
Cheers, Alan Foster
---
"My first purchase of Jos Thones from Martin was four young birds off of his stock birds. These birds were of extreme quality, breeding, feather and handling, and I was that impressed I ordered another ten. The pigeons I received were exactly the same, and now I have birds from all of Martins main stock pigeons. I would have no reservations in purchasing more from Martin to improve mine. Martin is a genuine, very honest and helpful fancier and has the best breeding of Jos Thones in his loft."
George Crombie, Aberdeen.
---
I purchased a pair of Jos Thone' young birds from Martin a couple of years ago for stock, these have gone on to breed some excellent birds and I have had birds from Martin every year since. The grandchildren from the directs are performing very well into a difficult area with very few losses. I have visited Martin on a few occasions now and would recommend him to anybody to provide first class birds to either race or build a family.
Phil (Cawfield & Crawford)
---
Maidstone 09 4th club 288 birds
Huntingdon 4th club 81 birds 7th club 4th section 2743 birds
Huntingdon 3rd club 7th fed 6th section 2697 birds
Reed 4th club 332 birds
Billericay 6th club 250 birds
Huntingdon 7th club 159 birds
Eastburne 5th club 176 birds
Reed 7th club 328 birds
Huntingdon 2nd club 356 birds 4th section 2743 birds
Positions won with just 3 birds out of 4 I bred for Mr and Mrs J Grainger of Cleethorpes Imperial FC and the strong Lincs South Road Federation.
_______________________________________________________________________________